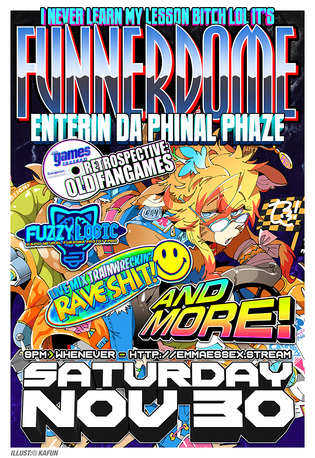 FUNNERDOME: ENTERIN DA PHINAL PHAZE is a livestream event on November 30, 2019 (later delayed to December 6, 2019) hosted by Emma Essex. The event was held on Twitch.tv/msx2plus on 9pm EST.
Event listing
STREAM START (9:00 pm)
FUZZY LOGIC (9:15 pm)
LIVE RAVE SHIT (10:00 pm)
FANGAME HISTORY (11:30 pm)
LIVE NOISE & EXPERIMENTAL SET (1:00 am)
AFTERPARTY... (2:00 am)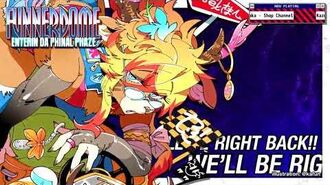 A group activity to create fursonas. It is a program run by Emma Essex utilizing Talk to Transformer by
@AdamDanielKing
. The Twitch chat gives an input of species, gender, personality, hobbies or social life. The program then outputs a character description.
Any fanart can be posted to lapfox@gmail.com to be seen around the end of the stream.
Name/
Number
Species
Traits
Description
1
Anomalocaris

Litter enthusiast
Retro computer collector
DJ

We went to the club and they're like "you gotta see this" so we go up there and they're like "yeah ok, come on" and we're like "yeah"
the thing about them is they're a lot of fun
2
Tree frog
But then something strange happened. For the first time in a very long time, the ring frog was out of the closet. And he knew he had to reveal his secret. He wrote the most powerful song in the history of music. His song was, "The Queer Frog." It went like this.
Sheep

Tall girlfriend
Blockbuster franchise owner
Demoscener
Bemani

She had a huge amount of time on her hands and she was very smart but she could be very lazy and her hobbies were all about video games. She had a great sense of humor and a very sweet face. And a badass mother to boot.
Eel
I saw her at an etsy convention and got to say hi. We talked about rock man robot asters. She said she was an autist and that she was trying to get into magic and I said, "well, that would be cool." She said she had a friend named Mar.
Axolotl

Dude
Roller derby
Only wears sandals
Loves ABBA

He likes to take a shit at the gym. He likes his beer cold. He wants to be a model or a pornstar or an actress. He has a boyfriend but he likes to fuck his bf's mom.
6
Mantid

Nonbinary
Fungus collector
Greatly misunderstands Buddhism

When he was given the mushrooms for the first time he ate all of them. After eating them he took off his pants and put his dick in his mouth. He ate the pants. After that he was not hungry anymore.
7
Chameleon

Hairdresser
Virtual pet fiend
Wino

He was so fond of an imaginary cat that he created a website called "the dog of my dreams", where he'd give people a virtual dog to play with. He also created the virtual currency, virtual animals, which is basically a virtual pet exchange.
Bull terrier

Motorcyclist
Graff artist
Used to breakdance
Geocaching

The bull terrier loves to do all the graffiti, graffiti, graffiti everywhere and graffiti, graffiti, graffiti everywhere, graffiti, graffiti everywhere everywhere, graffiti, graffiti, graffiti everywhere graffiti everywhere
See Live set 06 December 2019 for the track list and more information.
Fangame History
For this section of the stream, Emma Essex plays through some of her fangames she made starting out as a game maker.
Fanart Gallery
Gallery
External links
video 1 - FUNNERDOME: ENTERIN DA PHINAL PHAZE
video 2 - from BRB to FUZZY LOGIC fanart
video 3 - AFTERPARTY
Community content is available under
CC-BY-SA
unless otherwise noted.